Mac Graphic Converter
Easily batch convert thousands of graphics in a snap on Mac OS X.
Batch resize thousands of photos quickly and efficiently.
Convert RAW formats (ARW, .CRW, NEF, CR2, ORF, SR2, X3F, SRF) to common image formats.
Intuitive interface & Compatible with the latest Mac OS and Windows.
---
Mac Graphic Converter Description:
Graphic Converter for Mac is an excellent tool for both professional photographers and amateur and everybody to deal with images on Mac. Support import more than 60 different graphic-based formats, and export it out of 50 available file formats. It is simple to use because of its intuitive interface that gives you control over what you are doing. It is also powerful because you can easily batch resize your photos and convert multiple graphic files on Mac at the click of a button. Graphic Converter can take any number of images in all popular formats such as: PNG, JPG, PSD, GIF, TIFF, BMP, ICO, SVG, CUR, PICT, TGA, PCX, and many other image formats. It also support various RAW image formats from DSLR digital cameras, including NEF, CR2, ARW, .CRW, SRF, SR2, ORF, RAF, MRW, PEF, X3F, and son on.
There's no need to load, adjust and then save every single image. Let Mac Graphic Converter do the job for you and save precious time.
Just follow 3 simple steps to convert your graphics quickly and easily:
First, launch Mac Graphic Converter. Select the folder with your images.
Select the destination folder, and choose an output image format.
Click the "Convert" button to start converting. Graphic Converter for Mac will convert all images automatically. That's it!
Mac Graphic Converter Functions at a glance:
Supports 50+ popular graphic formats and 88 extension.
Convert hundreds of images at a time with just a few clicks.
Supports RAW formats from DSLR digital cameras.
Support drag-and-drop.
Resize hundreds of photos for easy sharing or to save space.
Preview images before conversion.
Resize photos by percentage, pixels or ratio.
Output Images with highest quality.
Intuitive and easy to use. You're done in just a few click.
Optimized for multi-core processors and uses native code when performance matters.
Works on Mac OS X and Windows.
Supported Graphic File Formats:

JPEG image format (*.jpg, *.jpc, *.jpe, *.j2k, *.jpeg, *.jfif, *.jp2, *.jpx, *.j2c)
Compuserve GIF graphics(*.gif)
Windows Bitmap (*.bmp, *.dib, *.vga, *.sys, *.dib, *.rl4, *.rl8, *.rle)
Canon Digital Camera Raw Image Format (*.crw, *.cr2)
Portable Network Graphics PNG (*.png)
Truevision targa (*.tga, *.vda, *.vst, *.tpic, *.icb)
JPEG Network Graphics (*.jng)
ZSoft PCX image (*.pcx)
Adobe Photoshop PSD (*.psd, *.pdd)
Digital Negative (*.dng)
Alias Wavefront RLE image (*.pix)
Minolta photo RAW (*.mrw)
SMPE DPX (*.dpx)
Multipage ZSoft Paintbrush (*.dcx)
Dicom Medicine Image (*.dcm, *.dicom, *.dic, *.acr)
Fuji CCD-RAW Graphic File (*.raf)
DirectDraw Texture (*.dds)
Dr Halo (*.cut)
Olympus Digital Camera RAW (*.orf)
Windows cursor (*.cur)
Windows icon (*.ico)
Group 3 FAX (*.g3)
Joint Bi-level Image format (*.jbg, *.jbig, *.jb2)
Kodak Camera Raw Image Format (*.k25, *.kdc, *.dcr)
Photo CD (*.pcd)
Apple Quickdraw picture (*.pct, *.pict, *.pic)
MTV raytracing (*.mtv)
Multiple image network (*.mng)
Nikon Digital SLR Camera RAW (*.nef)
Sony Alpha Raw (*.arw, *.srf, *.sr2)
Pentax Digital Photo RAW (*.pef)
Palm pixmap (*.pdb)
Portable float format (*.pfm),
Portable graymap (*.pgm)
X Windows pixmap (*.xpm)
Portable pixmap (*.ppm, *.pnm)
Portable anymap (*.pam)
Sun RasterFile (*.sun, *.ras)
Portable bitmap (*.pbm, *.pnm)
Wireless Bitmap (*.wbmp, *.wbm)
Utah Run length encoded (*.rle)
Vicar rasterfile (*.vic, *.vicar)
Alias Wavefront image (*.rla)
Word Perfect Graphics (*.wpg)
Sigma Camera RAW (*.x3f)
Gimp image (*.xcf)
Irix RGB image (*.sgi)
MATLAB image (*.mat)
Scalable Vector Graphics (*.svg)
Compr. Scalable Vector (*.svgz).
Our Awards:
---
Software Information
Version: 1.3.1
File Size: 3.04 MB
Price: $19.95 USD
Mac OS X 10.6 or later.
macOS Mojave 10.14 Ready
---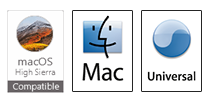 You can use Graphic Converter under Windows and Mac systems with the same license.
Download Graphic Converter for Windows
---
Screenshot (Run on Mac OS X):
---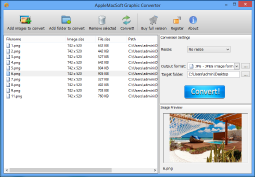 Screenshot (Run on Windows 8)
---
Testimonials:
I'd been using graphic converter as a PNG converter for a week when I found out that it also can convert raw images from .cr2, .crw to jpg. The batch raw photo resizer is perfect! A Great software !!!

– Gina Arena
Best Mac batch image processor out there. Mac Graphic Converter is the perfect complement to my workflow. It's amazingly easy to use, and works quickly. It's cut my work time way, way down and has yet to fail me.

– Xin Wang
---