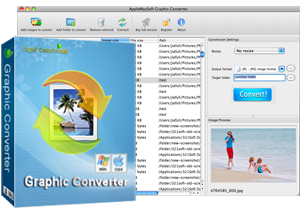 Quickly and easily convert multiple graphic files on Mac OS X at the click of a button. Support import more than 60 different graphic-based formats, and export it out of 50 available file formats. More than that, you can also resize (reduce or enlarge) any single or batches of photos, and reduce their file size to make them more suitable for web use, emailing to friends, or displaying on your mobile phone.
Convert images between all key formats such as PNG, TIFF, JPG, GIF, BMP, CUR, ICO, PCX, RAS, PSD, SVG, Photo RAW formats and more.
It's so cheap that you need only pay one-time registration fee $19.95. This software works on both Mac and Windows. No matter you need a copy for yourself using, or you need to order a copy for your company, it's the right choice.
Convert more than 30 image formats from one to another !
Are you a website designer? Are you tired of studying too complex image processing software? Now, you may choose Easy Graphic Converter, a very small image processing software for Windows with powerful functions.

Easy Graphic Converter is an all-in-one batch image converter and resizer. It supports more than 50 different filters. It supports reading graphics of BMP, DIB, JPG, JPEG, GIF, ICO, ICB, PCX, PCD, PSP, PBM, PGM, PSD, PPM, PSG, PNG, VST, VDA, EMF, WMF, TIF, TIFF, WBMP, RLE, SGI, and more. and supports saving graphics to BMP, GIF, JPG, JPEG, ICO, DIB, TIF, TIFF, WBMP, WMF, EMF, PNG, TGA, and more. It supports screen capturing with different ways. It supports unlimited UNDO and REDO operations.
Easy Graphic Converter Key Features:
Open and view more than 30 images formats including JPG, GIF, BMP, DIB, ICO, ICB, PCX, PCD, PSP, PBM, PGM, PSD, PPM, PSG, PNG, VST, VDA, EMF, WMF, TIF, TIFF, WBMP, RLE, SGI, TGA, and more.
Save and write more than 10 mages formats including DIB, BMP, GIF, JPG, ICO, TIF, TIFF, WBMP, WMF, EMF, TGA, PNG, and more.
Support more than 50 filters like noise, contrast, soften, blur, sharpen, stretch, lightness, mosaic, gray scale, and more.
Support editing image with selection, resize, rotate, add canvas, and more.
Support capturing screenshots from many ways.
Full options of capturing, images formats, and other
Stretch image to ICON size and save as ICON file.
It is simple to use because of its intuitive interface that gives you control over what you are doing
Graphic Converter is a terrific program that our tech students from High School Diploma can use to improve their potential!
---
User Comments
I have looked far and wide to find a software that will convert my 1800 images to PNG in a batch process. It took me many months of looking for, but your software really does make the conversion easy.
– John Doe, Some Corporation

Just a quick note of thanks! I use your Mac Graphic Converter all the time for just normal office stuff. It has worked well for me and filled in some of the OSX gaps..
– John Castillo, B "<" H Foto "<" Electronics Corp

I really like this software. I've been using it to convert numerous images for websites that I build.
– Julia
---